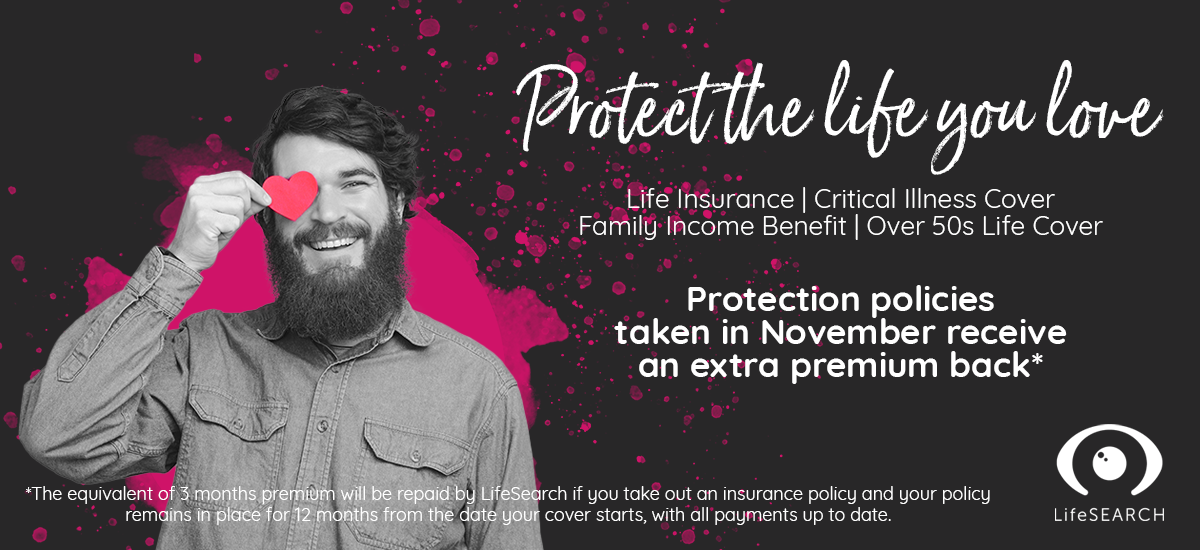 Limited time life insurance offer for BABTAC members
Get the equivalent of 3 months' payment back* when you enquire in November and, once bought and your policy has been live for 12 months.
LifeSearch offer fee-free advice on life insurance, critical illness cover, family income benefit and over 50s life cover.
Terms and conditions apply.
Protect the life you love
£100,000 of life insurance from just £5 per month**
Plus two months' premium back*
We have teamed up with protection experts LifeSearch; award winning Life Insurance advice from people who care.
Life Insurance | Critical Illness Cover
If you haven't protected your family from the financial chaos for when you're no longer around, or suffer a serious illness – LifeSearch can help.
Once your policy is arranged, you'll automatically qualify for their 'two months' premium back' offer* after the policy has been in place for 12 months - with all payments up to date. LifeSearch will contact you to arrange this payment by BACS.
Call a LifeSearch adviser today, 0800 804 6814*** and quote BABTAC, or Visit the website for more info.
Get a quote and apply online Visit the website
Terms and Conditions
*The equivalent of 2 months premium will be repaid by LifeSearch if you take out an insurance policy and your policy remains in place for 12 months from the date your cover starts, with all payments up to date. Offer can be withdrawn at any time. Payments will be made by BACs.
**Cover from £5 p/m based on £114,675 cover for a 30 year-old, non-smoker with a level-term policy over 20 years – as at 08/07/2021.
*** Calls may be monitored or recorded.
Life Insurance and other protection advice is provided by LifeSearch Limited, an appointed representative of LifeSearch Partners Limited, who are authorised and regulated by the Financial Conduct Authority.
This benefit is made available through Parliament Hill Ltd of Britannia House, 21 Station Street, Brighton BN1 4DE and you can use these benefits at your discretion. Parliament Hill is not part of the same group as any of the product/service providers which form part of the benefits scheme. Parliament Hill Ltd is authorised and regulated by the Financial Conduct Authority for insurance mediation only. You can check this out on the Financial Services register by visiting https://register.fca.org.uk/, under register number 308448 or by phoning the FCA on 0845 111 6768.
---
National Price Promise
Not only do LifeSearch take responsibility for recommending the right protection cover for your needs, if you have a cheaper quote that they can't beat, they will pay 1 month of your new policy for you. †
If you find what appears to be a better deal, contact us .
Redeem now
Quote BABTAC when you call
LifeSearch Content Library